Certified Speaking Professional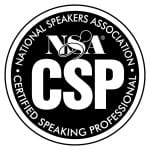 Jean Gatz received the Certified Speaking Professional (CSP) designation in 1999. The title of CSP is the highest earned designation that can be awarded to a speaker by the National Speakers Association and the International Federation for Professional Speakers. It is an internationally recognized standard for assessing competence on the platform and in business management… and is held by less than 10 percent of speakers worldwide. Only very few women can claim this international designation.
As a CSP, Jean has the proven platform experience, understands what is required, and knows how to deliver client satisfaction every time.
Learn more about the requirements and qualifications for becoming a CSP.